Armonia Village © PRDJ Co. Ltd. All rights reserved . |

"Stay Longer in Paradise with Armonia Long Stay Villas."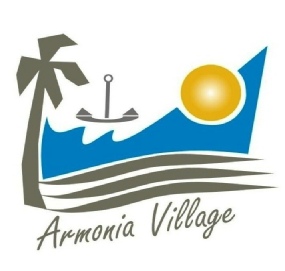 many of the offshore islands and reefs. After renting property for a number of years, they decided to make Thung Waelaen beach their home and signed a contract with the Armonia Village Management to have a home built to their own designs. John now part owns a diving boat and Jane, a keen photographer captures their adventures. They are both involved in initiatives to help local children and the police improve their English. More information visit their blog.
Originally from Seattle, USA, John and Jane are very keen scuba divers and Chumphon offered them the laid-back lifestyle they were seeking and the opportunity to dive around
From the UK. Long term Asia enthusiasts Trevor and Moyra have been coming to Thailand for over 30 years and have travelled extensively throughout the country always trying to stay one jump ahead of the mass tourism destination.
They are staying for a year at Armonia because it offers both beautiful beaches, enchanting coastlines and islands, unspoiled natural resources and friendly welcoming people. Moyra confirms, "In Chumphon you can still see the genuine land of smiles." Moyra is learning to scuba with John and Jane whilst Trevor is writing novels. What better place to pursue your dreams!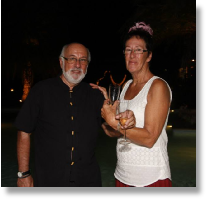 LET'S HEAR IT FROM THE ARMONIANS!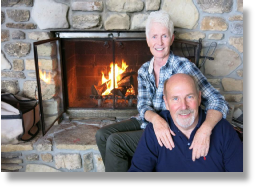 Trevor & Moyra
Escaped from mass tourism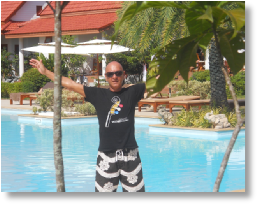 Our frequent visitor from Italy, Alex has chosen Armonia Village as a place to escape from the life
In Italy.
Alex has bought a villa and is now living in paradise
Doing things he likes such as going out with friends, driving around visiting unspoiled area of
Chumphon, and laying down on the beach.